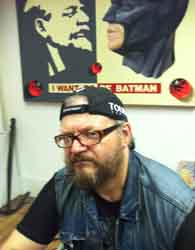 InterArt Gallery is proud to present current paintings by Anton Kandinsky.

The artist, who maintains a studio in New York City, exhibited in New York, London, cities of the former Soviet Union, Heidelberg and Prague. His paintings are privately collected in Australia, France, Germany, Israel, Italy, UK, and United States. One of Kandinsky's paintings hangs in the Knesset in Jerusalem.

More recently, Kandinsky's work has been auctioned in New York and London by Philips De Puree as his modern work has begun to attract more attention.

His pop-art style works has also appeared at several recent auctions, and has been featured in recent InterArt Gallery exhibition.